Letter from CARE's Chief Financial Officer
The CARE 2013 annual report provides a wonderful overview of how CARE's mission and work have evolved since 1945 and how CARE has helped people transform their lives and deliver lasting change to entire communities. What has not changed in 68 years is CARE's commitment to the sound stewardship of the resources entrusted to us by our supporters, donors and partners. CARE's management of its resources is fully accountable and transparent and we continue to allocate the highest possible percentage to program activities around the world. During the fiscal year that ended June 30, 2013, more than 89 percent of CARE's expenditures were used for program activities.
Total expenditures in fiscal year 2013 were down 12 percent compared to 2012. About half of the reduction was due to lower expenditures on emergency response and rehabilitation activities. Compared to prior years, there were fewer major disasters requiring costly, large-scale responses. During fiscal year 2013, Africa remained the continent with the highest concentration of CARE's work, with more than 45 percent of total resources spent there. The vast majority of that work was in sub-Saharan Africa.
The evolution of CARE's work over the past seven decades also changes the nature of our spending. When distributing relief supplies through CARE Packages® constituted the majority of our work, the majority of our expenditures were for donated commodities. In 2013, however, such expenditures accounted for just 6 percent of CARE's spending. Last year our largest expenditures were on personnel and the direct support we provide to the partner organizations who are our allies in the work to fight the underlying causes of global poverty. It's this type of spending, focused on training, education and building strong local institutions, that helps farmers improve their techniques, helps teachers improve education, and helps local government agencies and communities prepare to prevent loss of life and property when disasters strike. CARE provides long-term development and emergency response services in 87 countries.
In addition to prioritizing our program work, we are also cognizant of the need to always to improve our management, administration and resource stewardship. In recent years CARE has invested in building a new financial management system, which was placed in service during fiscal year 2013. The transition has been challenging, but for years to come we expect to realize the long-term benefits of modernizing our technology and maintaining CARE's tradition of first-class stewardship of the resources entrusted to us.
We thank all of our donors for their generous support and our partners for their continued commitment to end poverty.
Peter Buijs
Chief Financial Officer and Vice President, Finance and IT
CARE USA Balance Sheet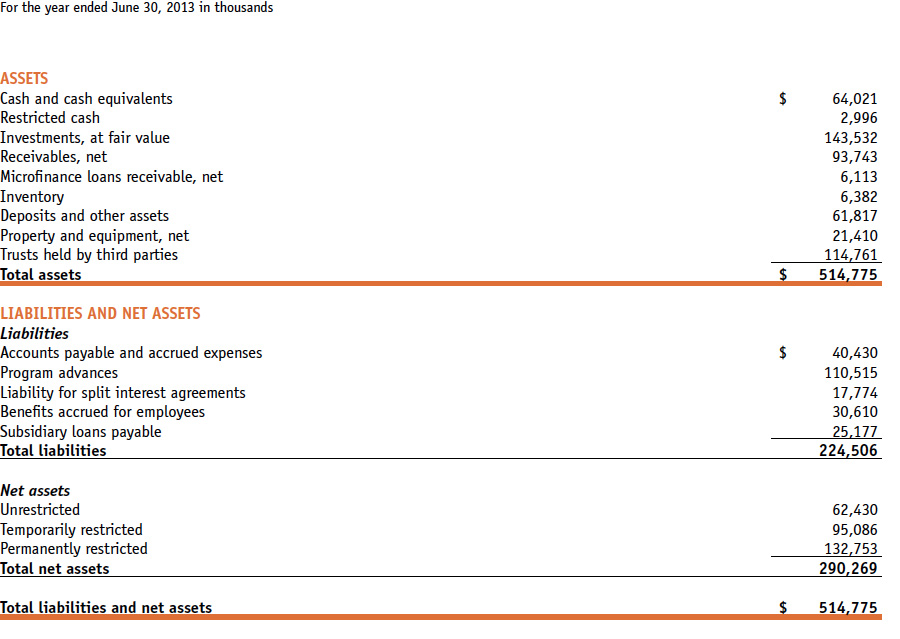 CARE USA Statement of Activities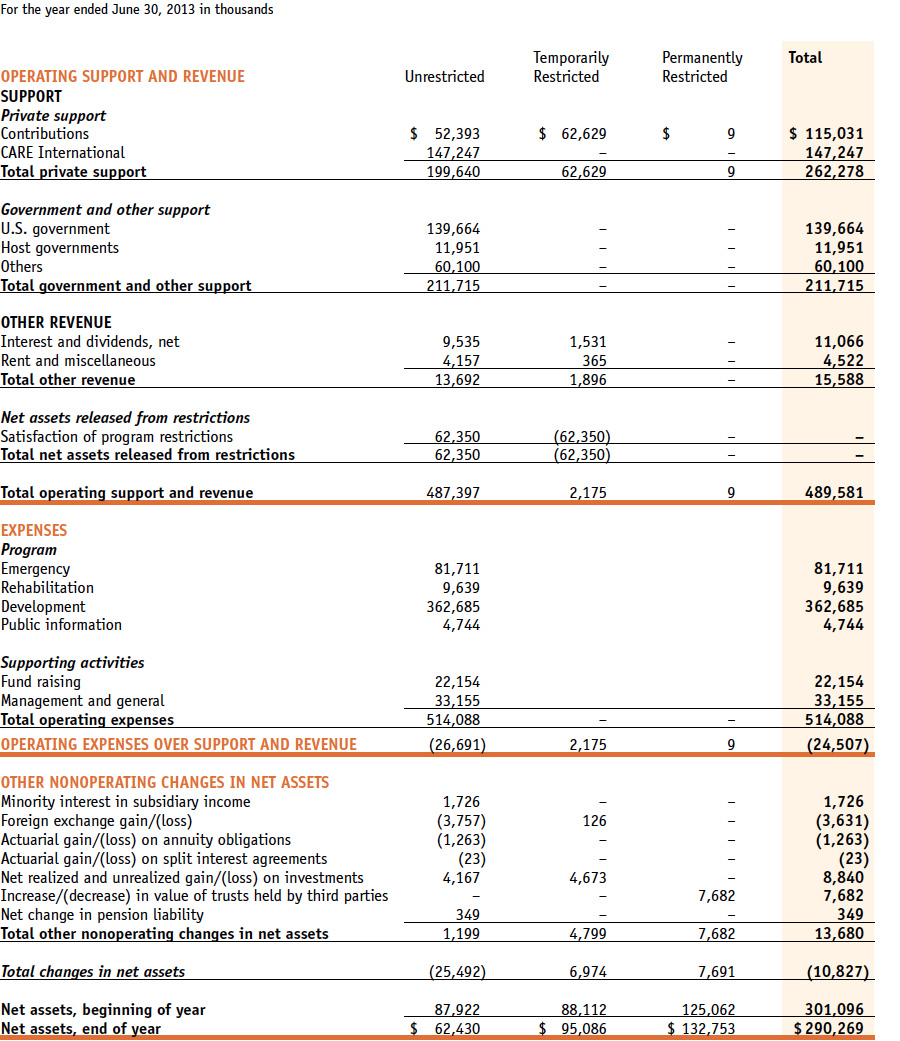 CARE USA Statements of Functional Expenses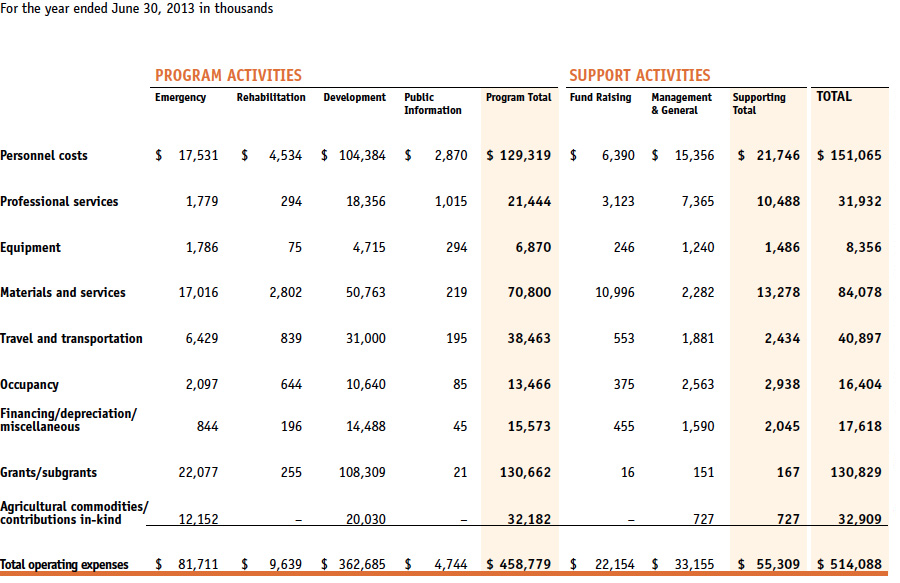 CARE USA Statement of Cash Flows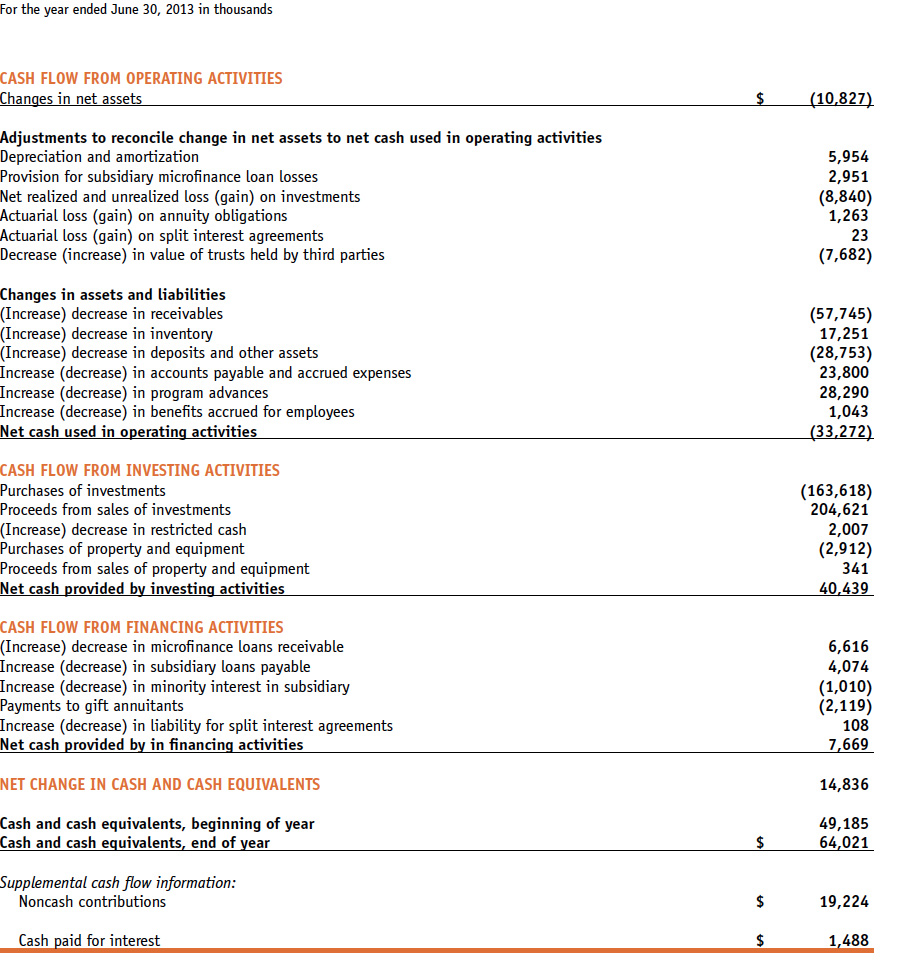 Our auditors have expressed an unqualified opinion on our June 30, 2013 consolidated financial statements.
These financial statements include associated notes that are essential to understanding the information presented herein.
The full set of statements and notes is available at CARE USA's website, www.care.org, and a printed copy may be obtained from CARE USA.